**Last chance to claim your Mother's day 20% off care plans- when you book your free discovery call to speak with Dr. Casey by tomorrow!**
Being a Mom comes with a lot of pressure. One of society's pressures for Moms is: stay in shape (on top of everything else)!
Now, I am a chiropractor who specializes in rehabilitation so I DO have to agree with this sentiment. However, I understand how stressful it can be to fit in exercise and make it a priority when you want to focus your time and energy on your kids.
I spent some time talking to some of my patients who are busy Moms. Here are the top 5 suggestions I have for you busy Moms to make exercise fun, a priority, and sustainable long term.
Spend time exercising with your kids
a. Many Moms feel that they have to go to a separate gym and find a sitter for their child or wait until their significant other is home from work. My suggestion is: screw that logic!
b. Put on a home video, put on some fun music, grab a few small weight or bands, and work out WITH YOUR CHILD. Show them how fun exercise can be while getting your exercise time accomplished.
c. This will be inspiring for your child and will also help you create memories that your kids might try to emulate with their own future children. Now you have ingrained the importance of exercise and physical fitness in your GRANDCHILDREN!
d.       **Shoutout to crossfit gyms who have kid classes to have parents and children workout together!!  There are several here in DeBary and DeLand!**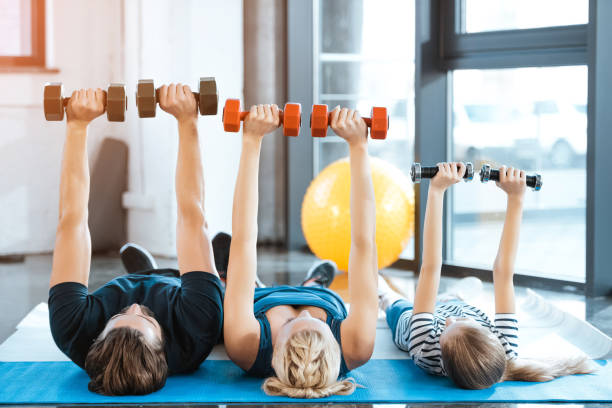 2. Find an activity with other people to hold you accountable
a.       Many of the busy Moms I know have a group of people they enjoy working out with. These people will check in when you get busy or miss classes to keep you on track!
b.       Now, contrary to point #1, sometimes you DO WANT to separate yourself from the time with your kids and get some time with adults. This can be one way to get adult interaction while working on physical fitness- killing two birds with one stone.
 3.  Use home workouts- especially when kids are young
a. When kids are in their early years, when do you find time to leave the house regularly and work out? This is the complaint I hear most often is finding the time/
b. Well, a pre- or post-dinner workout can be the solution. Home workouts can be HIGHLY effective. Do not underestimate them.
c.       I usually suggest having a small open area rug with a couch nearby, a few sets of different bands, and a few lighter weights to get started. This start up is cost effective and you can use the 20 minutes it takes dinner to bake to get in that short workout!
4. Workout when your kids do- with older kids
a. As kids grow up and start to have their own busy schedules with sports and activities, this is the PERFECT time to find a sustainable workout time.
b. Workout when THEY are at practice. Find a class with the same time nearby or bring bands to do a quick workout at the local park (we live in Florida ya know….)
5. Do not stress about holding to a perfect schedule
a. I know many busy Moms hold a "perfection" ideal in mind. However, my encouragement is to DROP the feelings of disappointment for missing a few workouts and CELEBRATE when you get back on track.
b. Life happens, things come up, it gets complicated. However, if you slow down and appreciate that getting in that ONE 20 minute workout at home that week was an accomplishment, it becomes much easier to get right back on track.
I hope you found these tips useful- and PLEASE REPLY WITH YOUR COMMENTS IF YOU RESONATED WITH THIS!
Busy Moms and supporting husbands…..Mother's Day May is ending so claim your 20% off care plans!
Busy Dads….well, we may have something in store for you in June….Guess you'll have to wait a few days to see!
Click here to book: https://link.drjustinrabinowitz.com/widget/appointment/book_a_call_impulse/discovery_call